Experienced. Trusted. Respected.
With an eye for quality in every stroke, Suplee Custom Painting works with you to bring your unique vision for your property to life. Read on to discover more about this family business. If you like what you see, be sure to request a quote below. Thanks for visiting and we look forward to hearing from you soon.
---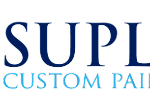 Scott Suplee
Owner, Chief Sales & Marketing Officer
Scott is in charge of sales and marketing for Suplee Custom Painting, LLC.  He also provides our clients the highest level of satisfaction and communication. Down to the smallest detail he is actively involved in the coordination of project deadlines from scheduling to fulfillment. Scott's magnetic personality always leaves our clients smiling.
Scott brings vast knowledge and an astute artistic eye to the firm as a graduate of the prestigious Ringling College of Art & Design with a specialization in Graphic Design.
He is a Florida native, living in the region for 40 plus years. Scott is also very active in the community.  He founded the Ringling College of Art & Design Golf Tournament as a student and is responsible for close to a million dollars in student scholarships.
Additionally, he volunteered with Easter Seals for a number of years and was integral in fundraising and their annual Golf Tournament.
In his spare time, Scott enjoys his hot wife, Jill, painting marine life, golfing, fishing, and all water-related activities.
---
Get Your Free
Estimate
After you complete the free estimate form, we will contact you within 24 hours to schedule your free consultation.
Yes, you can also reach us by phone anytime: 941-284-3287
Thank you. We look forward to serving you soon.